This article is reprinted from CityLab, an online journalism site affiliated with The Atlantic magazine.
By John Metcalfe
Walking out my front door a little while ago ago I came face-to-leathery face with a massive bird. It was squatting on the sidewalk like it owned the space, while a child sketched it from a few feet away. Just look at this sucker: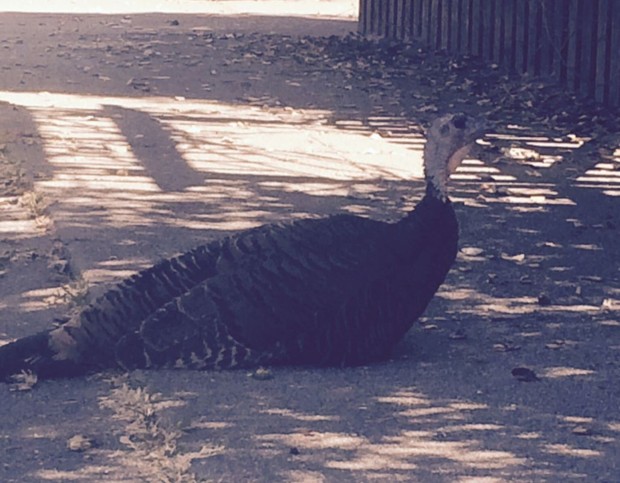 After forwarding the picture to a friend—who thought I had taken it because the bird ostensibly had no legs (sheesh)—I went online to see if anybody else had spotted such a creature. The answer: Heck yeah, all over the place. Residents of Oakland and Berkeley are reporting a steady stream of turkeys roaming the streets, utterly fearless despite the biggest turkey-eating holiday of the year being nigh.
Los Angeles has its coyotes, San Francisco its mountain lion, and the East Bay has … turkeys. People released the non-native species in California several times dating back to the 1870s, but it wasn't until the state's fish-and-game department brought them in during the mid-20th century that their numbers reportedly took off. Bob Lewis of the Golden Gate Audubon Society delves into the snoody intrusion via email:
They were released by Fish and Wildlife in California over a number of years, starting about 1959. There is, or perhaps was, an organization called the Wild Turkey Federation that enthusiastically supported this, I guess for hunting. (Ed: probably these guys.) The turkeys started to be visible in the Oakland area in 2002, according to our Christmas Count data. The first sighting, of 1 bird, was in the Dunsmuir area that year….
The turkeys have spread over the count area, particularly in the hills. In 2014 they were seen in 14 of our 30 count areas.
The California Native Plant Society sued F&W in 1995, to get the releases terminated, but by then the deed was done.
The Audubon society found 131 turkeys in or near Oakland during last year's holiday count, a sign they're thriving despite hungry coyotes and bobcats. They "seem pretty capable of defending themselves, or just taking off," says Lewis. In fact, they can become downright aggressive during breeding season, charging people and pecking the paint off cars they don't like.

"If confronted by a wild turkey that has lost its fear of humans," advises Fish and Wildlife, "an open umbrella may help steer it out of your path." (What, you don't always carry around an umbrella?)
Of course you could also shoot it for your deep fryer, though exercising a hunting permit requires hurdling regulations and staying away from homes. Best to admire these bewattled beasts from afar, and maybe post a photo of it dominating somebody's ride on Twitter:

————————————————————
Click here to view the original story (and a few more photos) on CityLab.
Want to help document for posterity the number of Wild Turkeys we have — or any other bird? Join our 2015 Oakland Christmas Bird Count on Sunday December 20, or our San Francisco Christmas Bird Count on Tuesday December 29. For details and online registration, see our CBC web page. The deadline to sign up for the Oakland count is November 28.